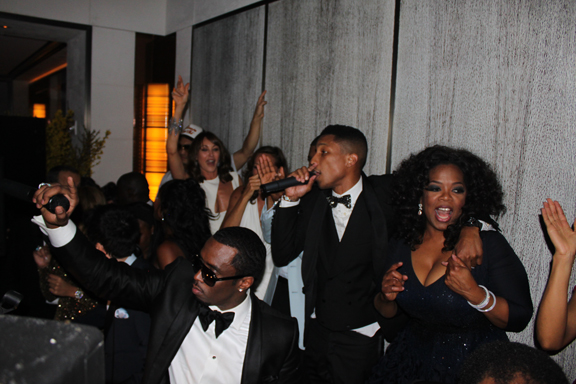 It's holiday season again and that only means tons of celebrating for making it through another year. After attending a plethora of functions since college from clubs, house parties, bashments, lounges, etc., I find that there seems to be consistent types of individuals at every party I go to.
Here are the five types of partygoers. Which one are you?
1) The Anti-Socialite
The title speaks for itself. These are the folks that are out with a continuous frown on their face. They dress up with their freshest gear and stand on the wall posted. Won't ask a woman to dance, won't even nod their head. Instead they are hugging their cell phone, tweeting and texting. Same for women. A guy asks to dance, and you're not dancing at all. Logic says you can stay home and look at your cell phone all night for free and without the drama of dressing up. All I can say is be present. Go out have fun, be social or stay home, be boring, and anti-social if you're in your "don't kill my vibe" mode.
2) The Fake Rapstar
If there happens to be a stage or couches at the venue, these are the people standing on them pretending they are performing the live rendition of whatever song is playing. Half the time they don't know the words but they're doing the infamous "Drake hand" and have that silly scrunched up look on their face like they're going to war (more like the toilet). No one can tell them that they are not KILL-ing it. It actually looks ridiculous. But because the fake rapstar looks like he or she is having a great time, the fake rapstar is probably my favorite type of party goer. This type gives me good laughs and nothing better than a few whoo ha-has when I'm out.
3) Thou Whom Can Not Hold thy Libations
Some people have drinks and get turned up and more live. Some people have too many drinks, start wobbling, falling, spilling their drinks, and throwing up. I think we've all been there, and if you have good friends they've helped you out. Hey maybe you had a hard week, just had that pay day and overestimated how much you needed. It happens. But for the most part there's always that woman or man being dragged out before the party is even half way over. If this happens to you every week, please get yo' life!
4) The Creep
Moreso from a woman's perspective, these are the men who stand behind you and want to dance, but never actually really dance. You're moving at 10, and he's at a 2, killing it for you. It's really annoying. This type creeps me out and I immediately dip from the situation.
5) A little bit of Michael, Beyoncé, and Jigga All-in-One 
This is the type of person who dances, raps, sings and actually knows maybe 85 percent of the words of the songs playing (no that's just me). They don't need to get on the stage or couch, the dance floor is enough. They never met the DJ ever in their life, but for these three hours he or she is their homeboy/homegirl (or arch nemisis if they're wack). Hey they might just be the DJ and partying at the same time. They're that live. The words "Ayye" and  "That's my…" constantly spews from their mouths no matter how many times they've heard the song. It doesn't matter, they're having a great time — as they should!
I bet if you go out this weekend, you'll pay more attention and see what I'm talking about! Tell me this isn't true, and again what are your experiences!?
-Natelegé Whaley
Send to Kindle
---
---
You might also like
---